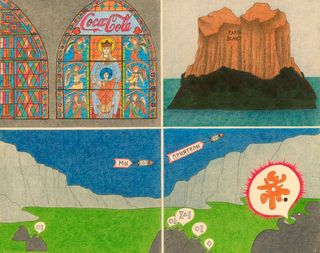 Dwight Ripley has his first show in fifty years, at the Tibor de Nagy Gallery, which he helped to found. A surprise are the four-paneled graphic narratives, a 1968 series called "Language Panels," which I had not seen before. Like the Dreamtoons of Jesse Reklaw now in the archives of slow.wave.com, these comic-strip four-squares offer surreal landscapes and characters speaking lines we can't quite believe. In Ripley's images, often, they're not even speaking English. The panels, writes Douglas Crase, "bloom with the reflex affection of naming the world in different tongues." There can be no doubt, despite Russian, Polish, Czech, or possibly extraterrestrial dialogue, that these panels are narratives. In one, Crase reports, describing the two lower panels,
Dwight drew a missile in the shape of a nose cone which appears over a desert basin populated by stonelike plants. The plants, clearly frightened, seem to curse in an unknown language while the missile cruises toward them towing a banner that reads, in Russian, "We are Friends."
The two top panels are a stained-glass Queen of Heaven with her Child sitting beneath a banner with the Coca-Cola logo, and a Gibralteresque island cliff that seems to have been graffitoed with the slogan "Carta Blanca." Ripley's satire has, alas, outlasted the Cold War, speaking to our current problems with corporate globalization. He was far ahead of his time in technique as well, his combination of word and image predicting similar strategies by Larry Rivers and Joe Brainard, among others, not to mention the genre of poetry comics, an artform becoming more important every year. –Rosanne Wasserman, "Wit Wrapped Round with Shiny Adult Experience,"
The Best American Poetry Blog
, February 7, 2012